Blays Grating Lifter is the first lifting clamp specifically designed for lifting steel grating manufactured to ASME  BTH-1 standards.
Provide riggers with a strong and efficient attachment points to the top surface of the grating to facilitate lifting and, above all, to secure its installation.
The industry offers a wide range of lifting devices and clamps for safe anchor points on almost all steel profiles.
However, nothing is especially suitable for steel grating.
The steel grating is a relatively light section, approximately 4.1 kg (9 lb) per square foot. However, their large area, 0.9 m (3 ft) By 7.3 m (24 ft) and the lack of space between the gratings and the structural sections make their lifting and installation complicated and dangerous.
The handling of steel grating causes many incidents.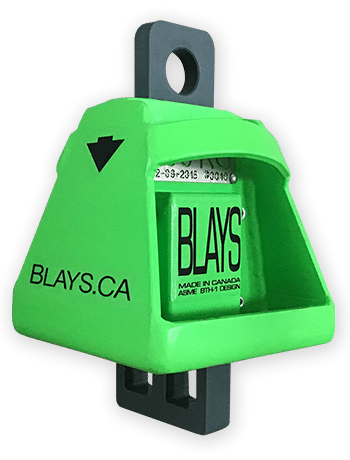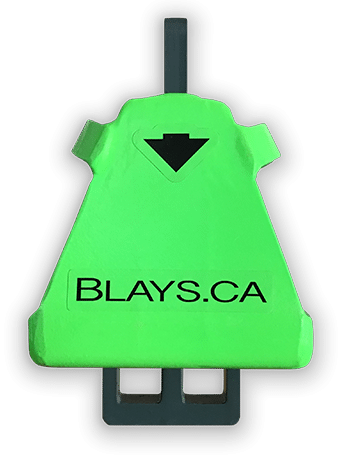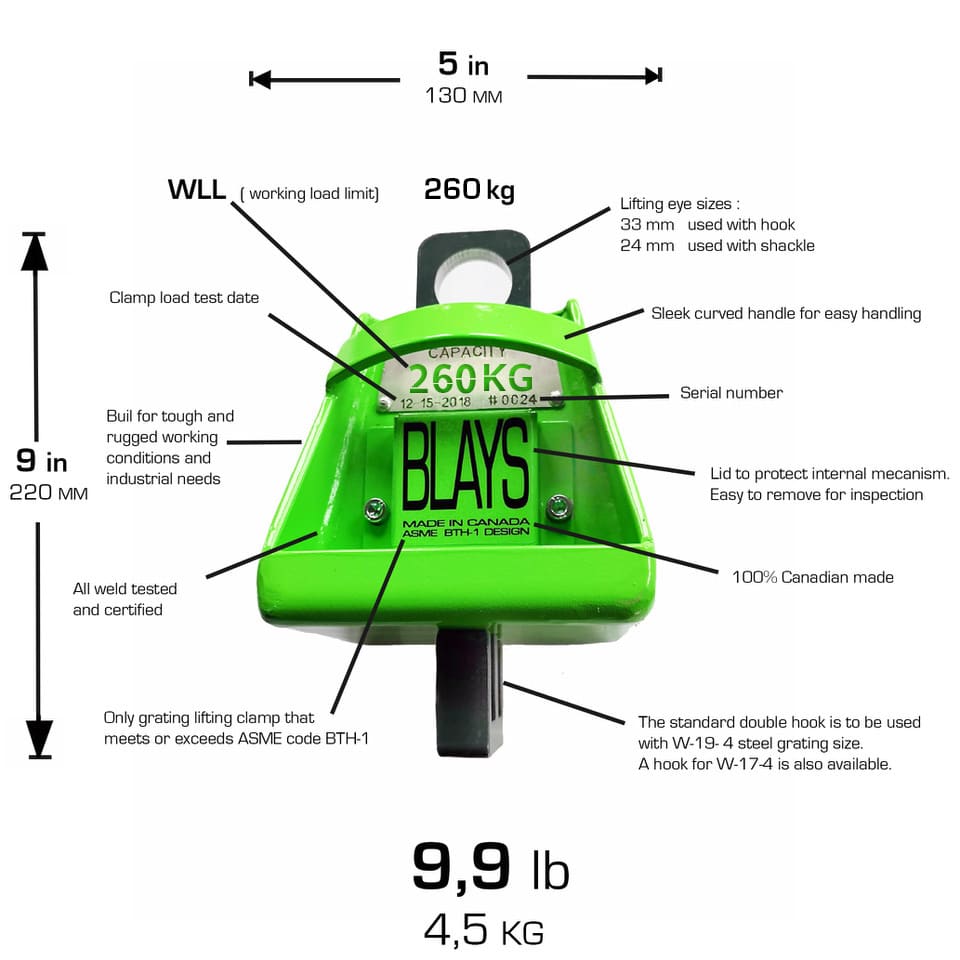 SPECIFICATIONS
Each clamp has a lifting capacity of 260 kg (573 lb).
A gap of only 50 mm is required under the grating to allow the installation of the clamp.
Our clamps are made of high-quality steel (G-40-21-300W) and all welds are performed by a certified CWB welder (CSA w59-1w47 and w48). Weld joints are visually inspected as (CSA w178-2-8) and are 100% magnetic particle tested.
The requirements, manufacturing drawings and the calculation book are engineered by Dynamic Concept, a firm experienced in developing and manufacturing lifting devices that meet or exceed the BTH-1 ASME standards.
Safety factor of 5-1.
Entirely made in Canada.
Each clamp is 220 mm in height for a square base of 130 mm, and its weight is 4.5 kg.
The mechanism is fully enclosed for the safe operation and to remain dirt-free.
Each clamp comes with certification, a user manual, and an inspection and maintenance manual.
A 25 mm hook is available for order. The grating clamp comes with a 32 mm hook opening to be used with a 32 mm bearing bar grating and can also be used to lift 25 mm grating. We strongly recommend installing a 25 mm hook when hoisting 25 mm bearing bar grating.
Replacement parts must be ordered from BLAYS for safe use, contact us to order original parts.
THE BLAYS LIFTING CLAMPS ARE CERTIFIED
The Blays lifting clamps are tested individually, the date of the load test is indicated on the nameplate riveted to the clamp. This plate also indicates the serial number of the clamp as well as the maximum lifting capacity.
Each clamp is supplied with the following certifications:
Calculation book
Heat number of steel
Manufacturing quality control
Results of certified visual and magnetic welding tests
Certified load test results
Safe lift warning
Read and understand the operator, maintenance and inspection manuals before use.
Keep fingers or other body parts away from lifting eyes.
Use a proper length steel choker for a lift angle of 60 degrees and more.
Don't load beyond the clamp's rated capacity.
Inspect clamp before each lift.
Don't operate a damaged or malfunctioning clamp.
Lift one grating at the time.
Use to lift the right steel grating.
Don't lift grating with any equipment attached to.
Don't lift grating with any loose item on it.
Don't lift grating with anyone on it.
Don't lift overhead.
Don't lift load higher than necessary.
Never leave suspended load unattended.
Don't weld or modify the clamp in any way.
Never remove or damage the WARNING! label.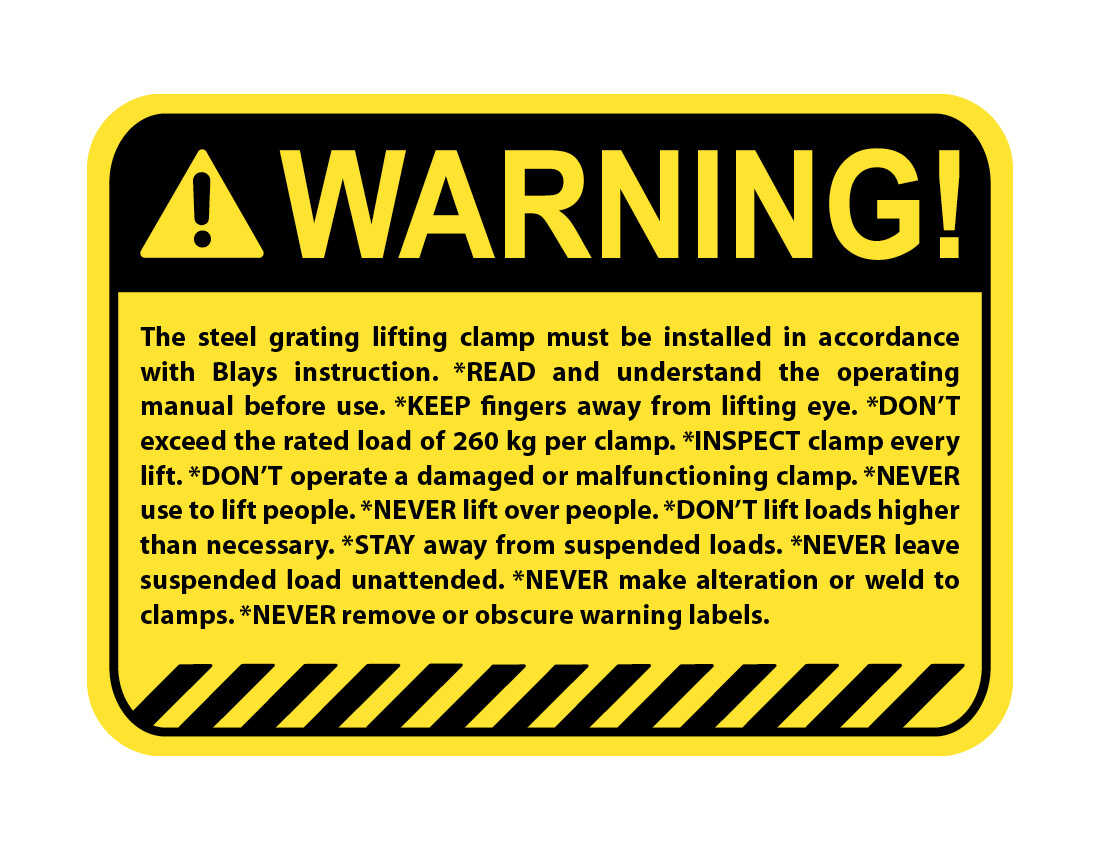 Operating manual
Always wear safety glasses, steel-toe boots and leather gloves when using any lifting clamp.
Read and understand the inspection and maintenance manual.
Never exceed the 260 kg (573 lb) capacity per clamp.
Inspect clamps before each lift.
Find the centre of gravity and locate 4 lifting points on the steel grating.
At each lifting point, insert a clamp, the hook slide down between bearing bars, and the base must be flat on the grating surface.
With the palm of your hand, push the lifting eye down until it is completely inside the clamp.
While still pushing on the lifting eye, turn the clamp 90 degrees.
Release spring pressure until lifting eye is completely out of clamp.

Attach a self-locking hook on a shackle to the sling.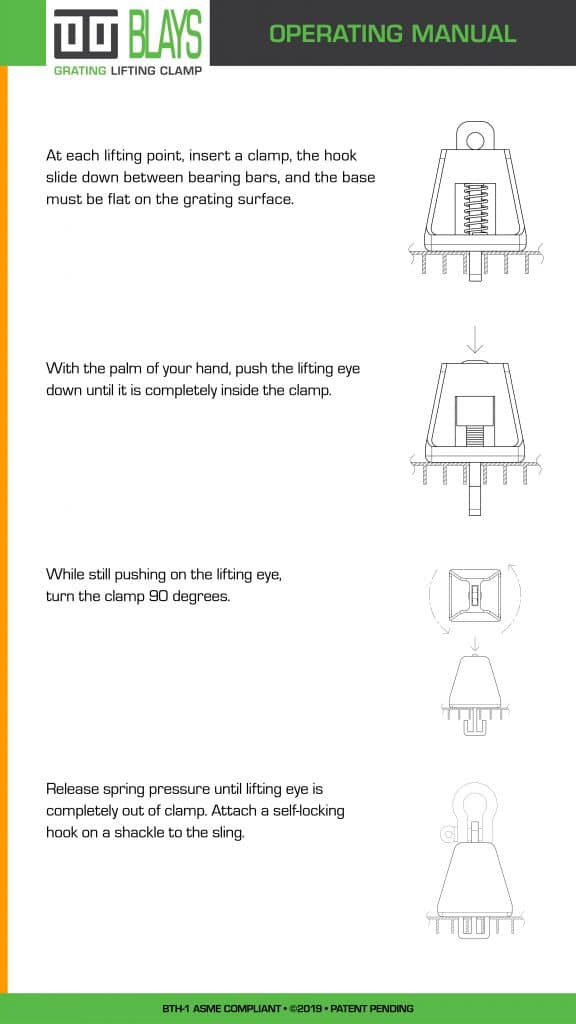 Inspection et maintenance
Pre-use inspection

Inspect the body of the clamp for any damage, cracks, or deformation.
Make sure both covers are on and properly bolted.
Inspect the hook for any damage, cracks, or deformation.
While pressing on the lifting eye, make sure that the push and release mechanism works properly.
Monthly insepction

A monthly inspection logbook must be kept.
Perform every step of the pre-use inspection.
Remove both covers.
Visually inspect the inside mechanism for damage, cracks, or deformation.
Visually inspect the spring.
Check if the hook screws are still tight, 2 threads of the screw should be exposed.
Clean dirt and debris out of the mechanism.
Reinstall both covers and tighten screws properly.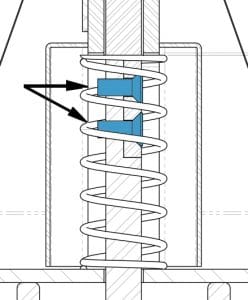 ** Always use blue Locktite 242 and torque screw to 6.6 lb/ft when installing hook.
AUTHORIZED DISTRIBUTOR
Fill out the order form, and we will send you an official billing statement including shipping and all other fees, we will wait for you to accept and sign the billing statement before delivery.
Contact us to order through a local distributor.
NOTICE
It is IMPORTANT to know the diameter of the lifting eye to be used, either:

24 mm • use with shackle

33 mm • use with self-locking hook
BECOME A DISTRIBUTOR OF BLAYS PRODUCTS
ORDER/REQUEST INFORMATION
MAIN OFFICE
234 Chemin Maltais-Laberge,
Saint-Charles de Bourget QC G0V 1G0